TheatreOne 2019 Off the Wall
---
AWARD WINNERS
Kathleen E. Nouch CDA Trophy for Technical / Backstage
(sponsored by the Saskatoon Ageless Players)
Honourable mention(s): Paper Bag Players for Room No. 5 by Bev Clark
Winner: Tale Spinner Theatre for The Stone Water Rapture by Doug Wright


Janet Lowndes Trophy for Acting
(sponsored by Janet Lowndes)
Honourable mention(s): Monika Knorr from Prairieland Players (Kerrobert) as Margie in Driver's Test by Don Zolidis
Winner: Sara Christie-Petrovich from Impavido Theatre (Yorkton) as 2 in Nine by Jane Shepard


Nancy and Sam Goodfellow Trophy for Acting
(sponsored by the Goodfellow-Hodges family)
Honourable mention(s): Rachel Johnson from Prairieland Players (Kerrobert) as Gail in Driver's Test by Don Zolidis
Winner: Robyn Letson from Impavido Theatre (Yorkton) as 1 in Nine by Jane Shepard


Last Mountain Theatre Company Best Actor / Actress in a Supporting Role
(sponsored by the Last Mountain Theatre Company)
Winner: Amber Matechuk from Paper Bag Players (Yorkton) as Missy and Pettigrew in Room No. 5 by Bev Clark


Florence Eberle Memorial Trophy for Best Director
(sponsored by Many Odd Faces On Stage)
Honourable mention(s): Dannyll Challis (Tale Spinner Theatre), Leanne Keys (Impavido Theatre)
Winner: Teresa Weber from Paper Bag Players for Room No. 5 by Bev Clark


George Barnet Trophy for Runner Up to Best Play
(sponsored by the Milestone Prairie Players)
Winner: Tale Spinner Theatre (North Battleford) for The Stonewater Rapture by Doug Wright


Schumiatcher Trophy for Best Play
(sponsored by Jacqui Schumiatcher)
Winner: Impavido Theatre (Yorkton) for Nine by Jane Shepard
---
Join us in Kindersley November 14th, 15th, and 16th for TheatreOne 2019 Off the Wall! We will be co-hosting our 30th short play festival with the Kindersley Players. All performances will be at the Norman Ritchie Community Centre, 1023 1st Street West in Kindersley, with doors opening at 7 pm and curtain at 7:30 pm.
Tickets are available online by clicking the poster or in Kindersley at Labelle Boutique in the Kindersley Mall.
Early Bird 3-Night Pass - $25 on sale now until November 3rd
Single Night tickets - $15 on sale now
3-Night Pass - $40 on sale November 4th
---
Schedule
Thursday November 14
Kindersley Players - An Open and Shut Case by John Mattera
Prairieland Players - Driver's Test by Don Zolidis

Friday November 15
Tumbleweed Theatre - Scotch at Midnight by Jacqueline Donoghue
TaleSpinner Theatre - The Stonewater Rapture by Doug Wright

Saturday November 16
Paper Bag Players - Room No. 5 by Bev Clark
Impavido Theatre - Nine by Jane Shepard
Script Scramble Production
Awards presentation to follow
---
After-Parties
The after-parties are a place to celebrate the work put into the performances. The cost of the after-party is included in the cost of your ticket(s) to see the show!
Thursday November 14
Theme: Celebrity Game night
Featuring giant Jenga, Yardzee and a trivia video game!
Friday November 15
Theme: Lookin fine in '89
Featuring a live band!
Saturday November 16
Theme: Retro Rock n Roll
Featuring a DJ and 70's and 80's midnight special video!
There is a bus lined up to take groups back to the Canalta hotel from the Norman Ritchie Centre on all three evenings.
---
Festival Hotel
Canalta Kindersley
1302 15 St. W.
306-463-1570
Room rate is $129.00 plus tax
Block of rooms under Theatre Saskatchewan and cut off for room reservations is November 1st.
---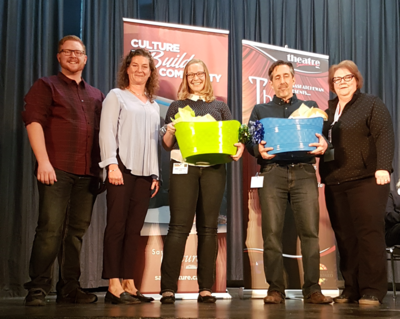 The Kindersley Players present adjudicators Mark Claxton and Abbey Thiessen with thank-you gifts